The Beacon of Hope hospice has acquired two sketches by Charles Bronson, known as 'Britain's most violent prisoner' for a charity auction. The acquisition is a result of an approach by one of The Beacon of Hope's clients to Bronson, asking him to support the charity. Bronson sent a touching reply saying that he now wants to make amends to society and is very keen that his work should benefit worthy charities such as The Beacon of Hope. Bronson donated two sketches to the hospice that will be auctioned at the RAFA Club in Aberystwyth on April 17th at 7.30pm.
Charles Bronson was initially sent to prison for an armed robbery at a post office in 1974, which netted him £26.18 and a seven year prison sentence. Since his incarceration began, his sentence has be extended for crimes committed inside prison, which include causing grievous bodily harm, wounding, criminal damage, false imprisonment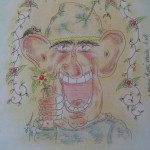 of hostages, blackmail and threatening to kill judges. Bronson has
only had a brief four month period of freedom since his incarceration, and all but four years of his time in prison have been spent in solitary confinement.
The hospice's development manager Dana Edwards said: "The two signed sketches sent to the charity are very different – one is a cartoon of Prince Charles depicting his love of gardening and the other apparently depicts Bronson himself as a caged madman."
Edwards went on to say: "It is in his usual style and makes a political point about the lack of human rights given to prisoners. Both are colourful with very controlled pen work but the imagery used in the latter sketch is forceful and thought-provoking."
Bronson has won a record 11 Koestler Awards for his poetry and art, as well as publishing a number of books about his time with the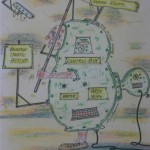 infamous Kray brothers and other underworld associates. The story of Bronson's life has recently been told in a biographical movie called Bronson the Movie, released in the UK in March of 2009.
Ms. Edwards is very hopeful that people interested in gaining insight into what life is like for some prisoners will snap up these sketches, noting that a Kray landscape recently raised £2,530. The Beacon of Hope provides a 'Hospice at Home' service throughout Ceredigion and neighbouring areas. Additional information about The Beacon of Hope hospice is available at The Beacon of Hope .org.uk