A look at the life and painting techniques of Johannes Vermeer, painter of "Girl with a Pearl Earring."
By Alina Bradford
(Originally Published by Suite 101)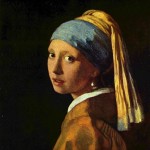 Johannes Vermeer or Jan Vermeer (1632-1675), best known for his painting "Girl with a Pearl Earring," was a Dutch painter who loved to paint domestic interiors, portraits and city views. Possibly trained by Leonaert Bramer or Carel Fabritius, Vermeer was a Master in the Delft painters' guild from 1653, and was considered a very fine painter in his lifetime, though his skill was nearly forgotten until 1866 when art critic Thoré Burger published an essay attributing 66 pictures to him. It came to light that only 34 paintings were actually by Vermeer, but it still brought the painter back into the spotlight.

Today Vermeer is considered to be one of the great Dutch master painters even though it has never been proven that he sold even one of his paintings. The lack of wealth and fame that he gained from his work it not important, though. What makes Vermeer great is his use of techniques called pointillé and camera obscura.
Pointillé is the creation of transparent colors by adding the paint onto the canvas in loosely granular layers.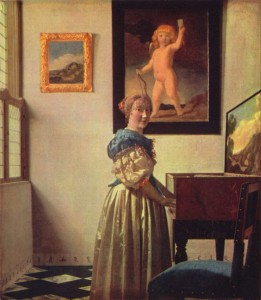 Camera obscura is what Vermeer probably used to create the sparkling pearly highlights you may have noticed in his paintings. Camera obscura is a primitive lens that would produce halation and exaggerated perspective. The effect can be seen in Vermeer's "Lady at the Virginals with a Gentleman" (London, Royal Collection).
Images Courtesy of Zenodot Verlagsgesellschaft mbH
| | |
| --- | --- |
| Choose your country: | Change Sort Order: |